Meet Chef Eric Eastes!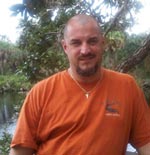 Chef Eric was kind enough to name his newest culinary creation after our band - Gator Creek Chili. How cool is that? He has given me permission to share it with you (see below).

Chef Eric is the management member at Snook Haven who is responsible for all the great fixin's you experience from their kitchen. Eric says he's not a master chef, but I beg to differ. Any of his culinary creations have "master" written all over them! My favorite (until I tried the Gator Creek Chili) is the Shrimp Po' Boy.

Chef Eric uses the finest, freshest ingredients, including local vegetables and fresh seafood.
And he knows how to mix it all up into mouth-watering treats.

The next time you're out at Snook Haven (to see the Gator Creek Band - lol),
find him and let him know how much you appreciate the great food!

Update: Chef Eric is back at Sharky's now.

~ Gator Creek Chili ~
Created by Chef Eric Eastes

5 lb diced gator
2 white onions diced
4 red peppers diced
4 green peppers diced
1 1/2 cup chopped garlic
1 can tomato paste
1 can crushed tomato sauce
1/2 can black eye peas
1/2 can black beans
1 can baked beans
1 sm. can chipotle peppers minced
3 tbl spoons Chili powder
Salt and pepper to taste
1 cup salad oil
1/2 gal water

Directions:
Cut gator meat real small and let sit in butter milk for 12 hours.
Pull gator meat from cooler and rinse off butter milk. Then boil in water for about 5 min. - pull and
strain. Set aside. In a large stock pot, put oil, peppers, onion, garlic and saute until onions are translucent.
Then add rest of ingredients and stir in gator that you had set aside. Cook on low for about 1/2 hour.
Add water when needed - salt and pepper to taste. Let cool. Place in a container with lid and label.